Welcome to The Eaton Families Association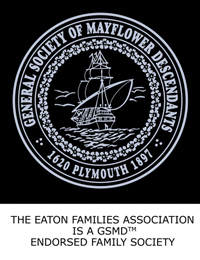 Log In | Membership Information
1882-1899; 1932-1938; 1948-1954; 2001-
The Eaton Family Association was organized in Boston, Massachusetts on July 25, 1882. The Eaton Families Association (or EFA) is a not-for-profit genealogy association tracing Eaton, Eyton, de Eyton ancestry/descendants from 11th century Shropshire/Cheshire Co., England and Wales through worldwide migrations and more.
Objectives: The objectives of this Association include the collection, consolidation and preservation for posterity of genealogical data of our ancestors; the promotion of the principles of freedom and democracy for which our ancestors worked, fought, and died; and the cultivation of mutual acquaintance and friendship among our members.
"The man who feels no sentiment of veneration for the memory of his forefathers is himself unworthy of kindred regard or remembrance."

(Daniel Webster)
DNA - The Eaton DNA Project is administered by Family Tree DNA, a non affiliated DNA lab. The Project Administrator is an EFA member with complete access to genealogical and historical files. Many of the DNA participants are EFA members, but membership is not a requirement to submit a DNA sample. The Project Administrator assists the participant with results evaluation. See the DNA website link in the Guest Features box for the Eaton DNA Home Page.

We currently are in need of DNA from Eaton named male descendants of Thomas "Tommy" Richard Eaton (1898-1975)of Covington County, Mississippi and wife Isabell(Culpepper)Eaton(1903-1957) for purposes of determining Eaton ancestry. Please contact our Family Genealogist for details of the DNA Project and how you can help. Financial assistance is available to eligible candidates.

Visitors - We encourage visitors to get to know us by browsing sample articles listed under Guest Features on the right. The categories on the left, available to members only, are packed with original articles from medieval times to the present, military documents, census data and evaluations, vital records and a lot more. While you're visiting, be sure to sign our guestbook

Membership - Our Eaton forefathers came from every walk of life--each with a unique story to tell. They left us a legacy to be proud of, to learn from and to emulate, and we are privileged to honor this birthright and preserve it for the future. All Eaton descendants and friends of Eatons are invited to join their cousins around the world as Members. Membership includes full access to our website, a monthly newsletter (see sample in Guest Features), access to members with like ancestry or interests, research assistance and camaraderie. For details see Membership Information .
Contact Us
If you have any questions or comments about the information on this site, please sign our guestbook.
We look forward to hearing from you.