Welcome to The Eaton Families Association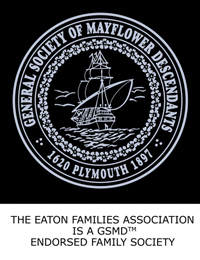 Log In | Membership Information
1882-1899; 1932-1938; 1948-1954; 2001-
The Eaton Family Association was organized in Boston, Massachusetts on July 25, 1882. The Eaton Families Association (or EFA) is a not-for-profit genealogy association tracing Eaton, Eyton, de Eyton ancestry/descendants from 11th century Shropshire/Cheshire Co., England and Wales through worldwide migrations and more.
Objectives: The objectives of this Association include the collection, consolidation and preservation for posterity of genealogical data of our ancestors; the promotion of the principles of freedom and democracy for which our ancestors worked, fought, and died; and the cultivation of mutual acquaintance and friendship among our members.
"The man who feels no sentiment of veneration for the memory of his forefathers is himself unworthy of kindred regard or remembrance."

(Daniel Webster)
Contact Us
If you have any questions or comments about the information on this site, please sign our guestbook.
We look forward to hearing from you.